The Simpsons, Presentset - Duff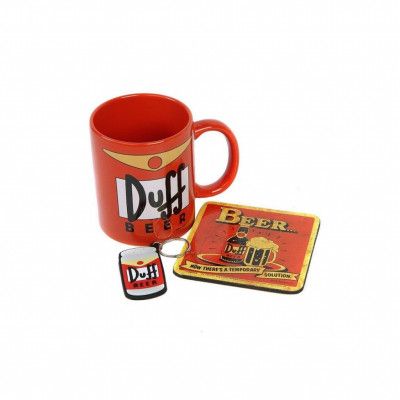 The Simpsons, Presentset - Duff
Letar du efter en The Simpsons Mugg, The Simpsons Glasunderlägg, eller The Simpsons Nyckelring? I det här presentsetet får du alla 3, alla prydda med motiv av ölen Duff! Presentset med The Simpsons Mugg, The Simpsons Glasunderlägg och The Simpsons Nyckelring. Presentsetet är en härlig present till ett fan av Homer Simpsons och ölen Duff, som också är Homers favoritdryck. Setets mugg rymmer 31.5 cl, och tål diskmaskin och mikrovågsugn upp till 40°C. Setets glasunderlägg är 10 x 10 cm och skyddar bordsytan. Setets nyckelring har ett hängsmycke i form av en Duff ölburk som är tillverkat av gummi. Officiellt licensierad produkt.
The Simpsons presentset
Består av mugg, glasunderlägg, och nyckelring
Utmärkt present till ett fan av ölen Duff och Homer Simpson
Specifikation: Färg: Multifärg Material: Keramik, plast, gummi Mått, glasunderlägg: 10 x 10 cm Volym, mugg: 31.5 cl Tema: The Simpsons
Förpackningen Innehåller: 1x Mugg 1x Glasunderlägg 1x Nyckelring
Produkten levereras i originalförpackning.
Information om Gameloot
1-3 dagars leveranstid
Endast 29 kr i frakt
Fraktfritt över 349 kr